AUDITE – BOX OF LIFE
---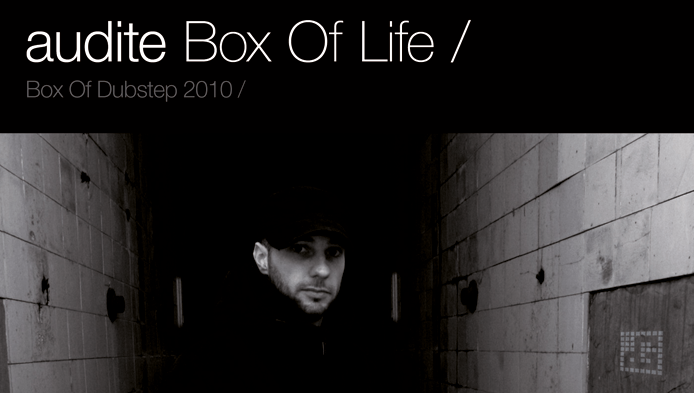 The 'Box Of Life' is a compilation of 5 dubstep mixes selected by audite. If you wonder what dubstep had (and has) to provide in 2010 you should be downloading this as soon as possible.
Artist/s
audite
Title
Box Of Life
Catalog-Number
[dG-CAST021]
Further Links
audite SoundCloud
draw
November 3 2010 @ 7:07
Sieht großartig aus, mein Lieber! Pon di dl right now. Cheerz aus FFM…
audite
November 3 2010 @ 14:09
hey nick,
ganz dicke grüße!
kkanzler
November 7 2010 @ 22:59
Ihr seid die Besten!
1000 Dank.
Das Kraftfuttermischwerk » Mix(e) des Jahres 2010
December 31 2010 @ 11:02
[…] Mix des Jahres hier noch mal die fünf(!) Dubstep Mixe von Audite, der mit seiner Mix-Serie "Box Of Life" so ziemlich alles bedient, was der Dubstep an sich herzugeben bereit ist. Ich hatte eine […]
audite – Box Of Life / Box Of Dubstep « audite – Boundless Beatz
May 7 2011 @ 17:58
[…] Box Of Life! Die Gedanken, die dieser Box zu Grunde liegen, wurden mehrmals hin und her geschichtet, umgewälzt und aufgeschüttelt, bis dann endlich klar wurde, wie das ganze Ding aussehen soll. Sie enthält 5 Dubstep Mixe, die eine musikalische Analogie zum Leben darstellen sollen. Dabei ist es mir eigtl. wichtig, dass die Box nicht nur als Dubstep Box verstanden wird, sondern vor allem als Musik Box. […]
Warning
: Declaration of sk2_referrer_check_plugin::output_plugin_UI() should be compatible with sk2_plugin::output_plugin_UI($output_dls = true) in
/www/htdocs/w00f85fd/wp-content/plugins/SK2/sk2_plugins/sk2_referrer_check_plugin.php
on line
0
Warning
: Declaration of sk2_captcha_plugin::output_plugin_UI() should be compatible with sk2_plugin::output_plugin_UI($output_dls = true) in
/www/htdocs/w00f85fd/wp-content/plugins/SK2/sk2_plugins/sk2_captcha_plugin.php
on line
0
Warning
: Declaration of sk2_pjw_simpledigest::output_plugin_UI() should be compatible with sk2_plugin::output_plugin_UI($output_dls = true) in
/www/htdocs/w00f85fd/wp-content/plugins/SK2/sk2_plugins/sk2_pjw_daily_digest_plugin.php
on line
0
Warning
: Declaration of sk2_rbl_plugin::treat_this($cmt_object) should be compatible with sk2_plugin::treat_this(&$cmt_object) in
/www/htdocs/w00f85fd/wp-content/plugins/SK2/sk2_plugins/sk2_rbl_plugin.php
on line
0